Best Products & Services by St. Petersburg Safety Surfacing

Getting a new surface for your space will require that you consider not only the options available if it was a catalog of clothes. Instead, you will have to look after several factors that will influence your decision and guarantee you go for the best safety surfacing possible. What are these factors? To begin with.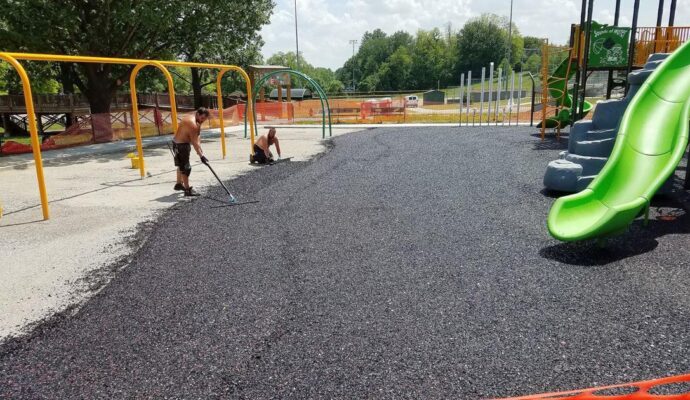 Depending on whom you ask, you will either listen or read about more or fewer. However, there are a few general or main ones that cannot be excluded:
The climate and temperatures in the city or location of your space.

The size of the space where you require the surface.

Design or appearance you want for your space when installing it.

Your preferences in colors.

The level of shock absorption is required based on: the activities to be performed in the space, level of traffic, and specific use of the area.

Your budget for the project.
Now, the quality, durability, and longevity of the surface are also factors you need to think about since they are indeed influenced by a few previous ones, like the climate or temperature changes. However, more than these, the quality of the materials used and the installation of the surfacing option are crucial as well. This takes us to another aspect to keep in mind: if you want good results, finding and hiring reliable and qualified professionals will be needed.
At St. Petersburg Safety Surfacing, we care about the previous factors and add a few more depending on the specific project we will be handling. That being said, installation nor the materials used for the surface will be an issue with us. Why? Because we worry about offering quality before anything else and we want to make sure you are satisfied with the results obtained thanks to the surfacing options we have available.
Now, how do we help you in specific? With installing surfaces only? Not quite. Our company is able to handle any service and problem related to safety surfacing and we will focus on providing you with several options when it comes to the type you can install in your space. Therefore, look forward to our services and make a decision based on the one that fits your needs and ideas the most:
Get access to our services today!
If you are interested in any of our services at St. Petersburg Safety Surfacing or need advice, guidance, or maybe recommendations, feel free to email or call us anytime. Also, you can fill the form on our website to request a quote or ask any of your questions for our team to answer and clear all your doubts.
Below is our list of additional services: